Company History
Hamon Overhead Door is a garage door installation and service company, serving residential, commercial, and industrial clients throughout San Luis Obispo and Santa Barbara counties. In March of 1966, Tom Triol set out to offer sophisticated and unique garage doors in Paso Robles, CA – a product that he thought was otherwise a bit dull. Out of this idea came the name Hamon Overhead Door Company, Inc., an organization with unlimited potential for growth. For over 55 years, Hamon Overhead Door Company, Inc., has continued to honor and build upon its legacy with new innovations. We brought the designer carriage house door to the central coast; we were the first to offer Cookson rolling steel doors to our market; and we carried the innovative, high speed vinyl door over to our area.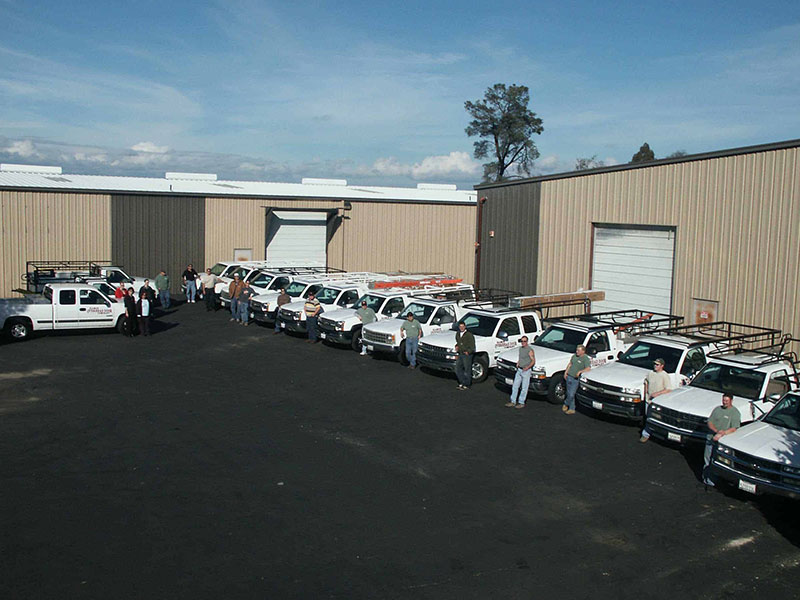 Raising the Standard
Our vast product selection, expert service technicians, and constant innovations have allowed us to be recognized as the premier garage door dealer on the central coast. We focus on the delivery, service, and installation of residential, commercial, and industrial doors. We're always willing to take on a job, and always confident in our ability to produce exceptional results. Hamon Overhead Door's relationship with our clients is as important to us as the quality of our service. Our product showrooms are a great example; we offer residential clients a step-by-step process for finding the perfect door and having it professionally installed. Hamon Overhead Door is raising the standard with everything we do.
Historical Timeline
Our unique history runs deep. We are the only local dealer to be continuously run by one family for over 55 consecutive years, and we want to share our story with you.
1966

Hamon Overhead Door was founded by Tom Triol in Paso Robles, California under the franchise of Overhead Door Company.

Early 1970's

Tom sold and installed many Overhead Doors. At this time, most of the doors we Installed were wood, and many are still functioning today.

1975

John Hamon Jr. married Marjorie, Tom's daughter. Shortly thereafter he came to work installing garage doors.

1982

Founder Tom Triol retired and was succeeded by his son-in-law John Hamon Jr.

1989

John Hamon's brother, Mark Hamon, came on board in our commercial division.

1992

Hamon Overhead Door left the franchise of the Overhead Door banner and went out on its own creating Hamon Overhead Door, Inc.

1992

Hamon Overhead Door opened its Santa Maria office to better service Santa Barbara county.

1993

Hamon Overhead Door partnered with Cookson Rolling Doors, bringing a unique product to our central coast market.

1994

Hamon Overhead Door became a California Certified Small Business.

1995

Hamon Overhead Door was awarded as a precision garage door dealer from Moore-o-matic garage door openers.

1998

John Hamon III (Jay) came on full time to work alongside his father.

2002

Hamon Overhead Door partnered with Liftmaster to offer the best garage door motor on the market.

2006

Greg Hamon (John's Brother) was hired to manage our Santa Maria office.

2013

Hamon Overhead Door was honored to become a Liftmaster ProVantage Dealer.

2014

Hamon Overhead Door refreshed its look with a brand update and new website launch.

2015

Hamon Overhead Door partnered with CHI Garage Doors to bring unique garage doors into the central coast market.

2019

Hamon Overhead Door was named Best of Santa Maria 2019 Garage Door Supplier.